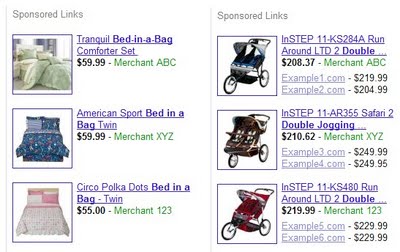 The Google AdWords Product Listing Ads generally perform very well for most eCommerce retailers. You can read our guide on how to set up Product Listing Ads. Here are some extra tips to help you set up and optimize the campaign correctly.
Google Merchant Center
In your Google Merchant Center feed, you can add the following columns to help with Product Listing Ads.
| | |
| --- | --- |
| adwords_grouping | This field is used to group products. It can be used for Product Filters to limit your AdWords campaign to a specific group of products. This field can be useful if you want to bid differently on different subsets of products. It can only hold one value (i.e. "electronics" or "iphone"). |
| adwords_labels | This field is very similar to adwords_grouping, but it will only only work on the CPC bidding model. It can hold multiple values, allowing a product to be tagged with multiple labels (i.e. "shoes, sneakers"). |
| adwords_publish | This field is used to exclude select offers from Product Ads. If this field is not included or left blank, all product will be included in your product ads. If you want to exclude any items from being displayed you need to fill the column with a value of "true" or "false". |
| adwords_redirect | You can use this field to set the click URL of the Product Listing Ad. This comes in handy when you standard Merchant shopping feed has all the URLs tagged (i.e. ?utm_source=Google&utm_medium=CSE). By filling out this field with a plain URL with no tracking (i.e. http://www.merchant.com/product.html), your traffic/revenue will only be attributed to one source. |
Google AdWords
Once you add these fields to your feed file, you can filter your campaigns by grouping and labels.

You can find more info in the Google Help Center.