In a previous post we featured 10 really cool and useful Magento extensions for your store. Here is another selection of 10 more great extensions.
1 – Layered Navigation Pro
Layered Navigation Pro allows you to customize the look and functionality of the layered navigation/search filters on your Magento store. You can use sliders, images, multiple check boxes etc… In addition this extension uses AJAX to load the new search results in real-time and you change your selection.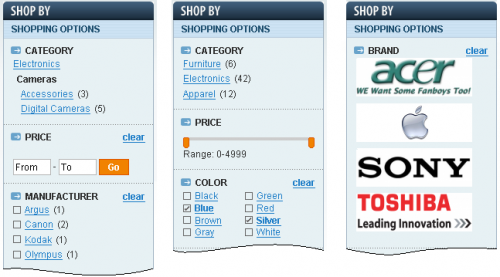 Extension Page | Demo | Price: $99.00
2 – Google Maps Store Locator
Great for eCommerce sites with multiple brick and mortar locations. Very easy to set up, just enter all store locations and Google Maps latitude and longitude coordinates and your done.
Extension Page | Price: $125
3 – Visualize Your Attributes
Adds the ability to display attributes with icons instead of drop down lists, radio buttons and check boxes.
Extension Page | Price: $49.00
4 – IDEALIAGroup LightBox
This extension will install a wonderful and ready-to-use LightBox widget in your Magento store.
Extension Page | Price: FREE
5 – FreshBooks Integration
This extension allows you to import your Magento Orders in real time into your FreshBooks account.
Extension Page | Price: $19.00 per Month
6 – Shop By Manufacturer
This is an alternative the the Shop By Brand extension we featured in our original Magento extensions post. It has all the basic features need to shop by brand but is not as feature rich as the other one.
Extension Page | Price: $29.99
7 – Order Editor
This extension enables you to edit order information in-line without canceling and creating a new order. Does not allow editing of any fields that would affect order total.
Extension Page | Demo | Price: $69.00
8 – Facebook Connect Social Shopping
This extension adds the ability for your site visitors to connect with their Facebook friends without leaving your ecommerce store. They can recommend items to their friends or ask advice about specific items on your site.
Extension Page | Price: FREE
9 – Twit Your Products
Take advantage of Social Media and add the ability for your customers to send products to Twitter with a customized Tweet.
Extension Page | Price: FREE
10 – Vertical Navigation
Don't like the default horizontal menu? This extension switches your store layout to use a vertical menu bar.
Extension Page | Price: FREE
More From This Series: Magento Extensions